Tickets
Hours
Winter in Franklin Square is a day-and-night event and follows Franklin Square's operating hours.
Nov 16 -Jan 7 | 10am – 9pm
Jan 8 – Feb 25 | 10am – 7pm (Thurs-Sun)
*Dec 24 & Dec 31 | 10am – 8pm
*Jan 15 & Feb 19 | 10am – 7pm
Closed: Thanksgiving Day, Christmas Day, & New Year's Day
The Electrical Spectacle Light Show runs every 30 minutes, 5pm – closing. 
Location
Franklin Square is located at 6th & Race Streets in Philadelphia, just two blocks from the Independence Visitor Center and Liberty Bell Center.
More than a park
Must See Attractions
Winter in Franklin Square is your go-to holiday attraction for the family, a group outing with your squad, or an anything-but-ordinary date night. Winter in Franklin Square offers memory-making attractions with fun for everyone.
Putt through 18 holes of wintery fun this holiday season! Center City's only outdoor mini golf course transforms into a winter wonderland both day and night during Winter in Franklin Square. Chilly Philly Mini Golf features lights, seasonal music, and larger-than-life wintertime friends throughout the course. Don't miss Philly Mini Golf decked out for the holidays!
Tickets
Adults: $15
Children (3-12): $12
Saddle up and hop aboard the Parx Liberty Carousel for a gentle ride on Center City's only year-round carousel. You'll go round and round and up and down on colorful animals, a dragon and two of Philly's favorite race horses, Afleet Alex and Smarty Jones.
Tickets
Ages 3+: $4.00
Children 2 and under: FREE
(Children under 42″ must be accompanied by a responsible adult)
Tickets purchased are valid for entrance during any public operating hours. Please check our operating calendar for operating times, dates and special events.
SquareBurger
Come hungry! SquareBurger serves up a menu of yummy faves including juicy burgers, crispy fries, thick, creamy shakes and the legendary Original Cake Shake made with Tastykake © Butterscotch Krimpets.
Enjoy one of Philadelphia's premier winter light shows for FREE! The Electrical Spectacle presented by PECO is Winter in Franklin Square's main attraction. Hundreds of thousands of LED lights make the Square the perfect backdrop for your holiday Instagram pictures.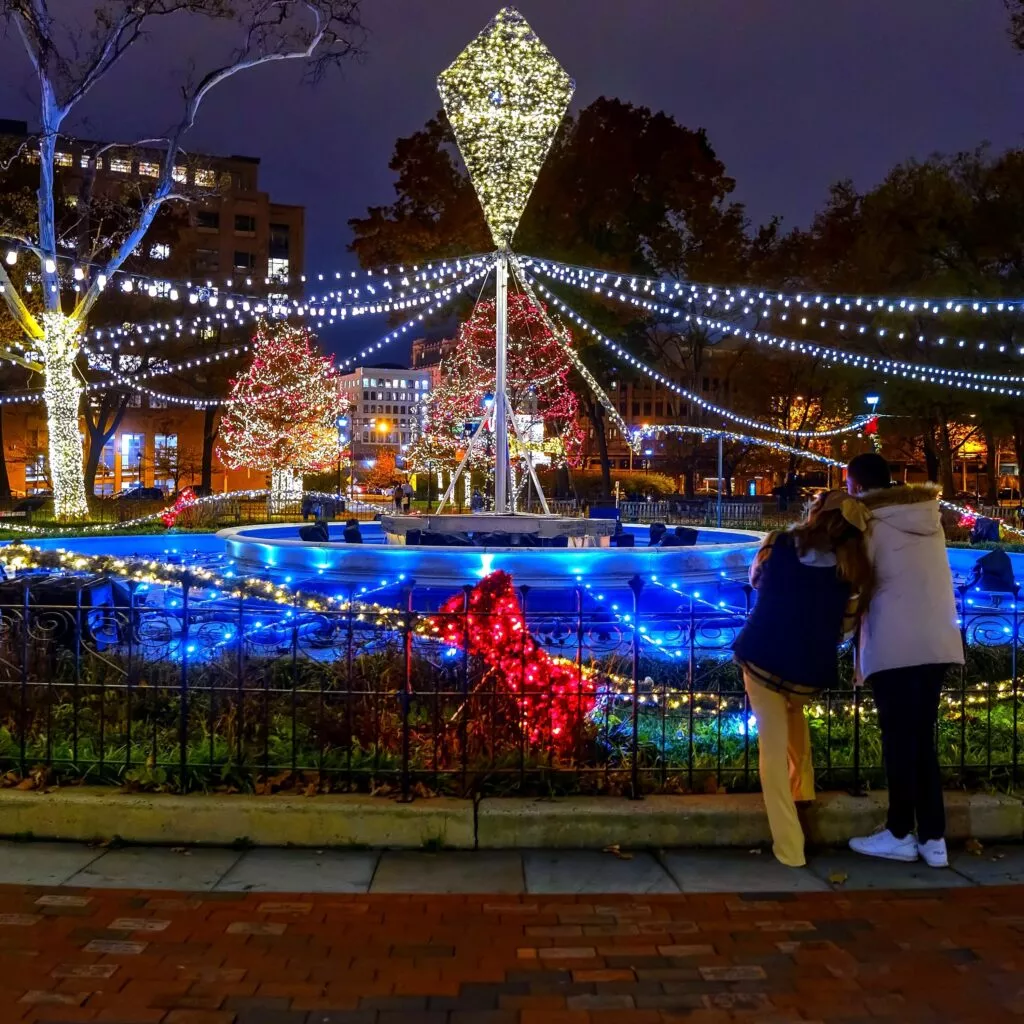 Franklin Square Playground
Swing, sway, climb, crawl, twist and twirl at the award-winning Franklin Square playground. It's free, it's fun and it's open year-round.
Living Flame Memorial
Created in 1976 by local sculptor Reginald E. Beauchamp, Franklin Square is honored to be the home of The Living Flame, one of the few memorials in the country dedicated to both fallen Police Officers and Firefighters.
Getting Here
Franklin Square is located at 6th & Race Streets in Philadelphia, just two blocks from the Independence Visitor Center and Liberty Bell Center.
Public Transit
The Square is accessible to and walkable from:
SEPTA Regional Rail
Via Jefferson Station at 11th & Market Streets
SEPTA Market-Frankford Blue Line
Via 8th Street or 5th Street stops
PATCO High Speed Line
Via 8th & Market Streets
Note: SEPTA Route 47 boarding at 7th & Race Streets is currently not available due to construction. Please board at 7th & Vine Streets.
Parking
Limited on-street parking* is available 8 AM – 10 PM daily along:
6th Street
Handicapped, motorcycle, and regular parking
Franklin Street
Regular parking
Race Street
Regular parking, between Franklin Street & 7th Street
Note: Parking along 7th Street is unavailable due to construction. Parking IS NOT ALLOWED along Race Street between 6th & 7th Streets on the north side of Race Street.
*Pay at the adjacent parking kiosk and be aware of parking boundaries; Bus stop tow away zones exist adjacent to these parking areas. 
Historic Job Opportunities
We're always looking for the best and brightest talent to join the Historic Philadelphia team.
View Current Openings